Sorry about the belated wishes, I didn't want to inundate your inboxes with posts on one day, and I really wanted to share my thoughts on The Colette Sewing Handbook. So that leaves us with belated Wednesday issues! Without further adeiu: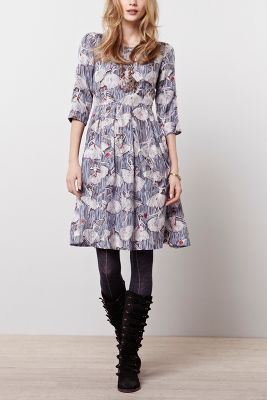 The Bourgeois Dress
from Anthropologie. If you know me, you know that I am a bit obsessed with Anthropologie. I love pretty much everything they have. Anyway…From far away, this dress is pretty. On closer inspection, you can see that the silk is printed with beautiful dancing ballerinas. At $300, it's not an investment I will be making soon, but it is so beautiful! If only I could find some ballerina silk so I could make one…
This beautiful fabric is from Tuppence Ha'penny's Spoonflower shop. I'm just smitten with this fabric! I think the pink would make a great blouse and the blue would be beautiful for a dress…What's that? You don't know about Spoonflower? Well, neither did I! A couple of weeks ago, I discovered it, and I've been a bit obsessed ever since. Spoonflower is a wonderful website that allows you to upload images and create your own fabric. You can also shop the stores of other designers and fabric enthusiasts. Spoonflower also solves the age-old problem of "I would love a dress in this print, but it's the wrong material." Each print is available in multiple fabrics, and you get to choose which one you want. It's a bit like your fairy godmother just read your mind and delivered the results to your door!


This beauty is the peplum top from Salme Patterns. Isn't it darling? The simple, chic silhouette is instantly flattering on any figure. Salme is an independent pattern company based out of London that offers PDF patterns that you can print at home. With great designs and instant prints, you should definitely check out the whole collection!